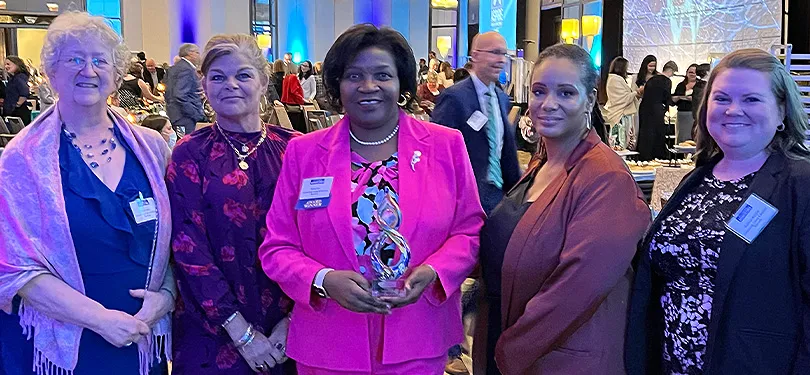 Melva Fair (Gooden Ledbetter) is currently employed as the Chief Executive Officer of Community Living And Support Services (CLASS).  Since 1983, Ms. Fair (Gooden Ledbetter) has supported varying disability populations in the areas of residential, life skills education, and vocational supports.  Her specific employment experiences include that as a residential counselor, life skills educator and supervisor, coordinator/director of services, consultant and public speaker on community and disability issues, information/referral, and marketing. Other experience includes overseeing the development and technology departments.  In addition to her work at CLASS, she has taught for the Community College of Allegheny County Non-Profit Professional Development Academy.

Additional responsibilities have included serving on various committees such as the Disability Consulting – Life Care Planning Committee, Education Consulting, Transition Planning, and Domiciliary Care Committee with Allegheny County Area Agency on Aging as well as many other committees.  She served on the Board of Directors for the Brain Injury Association of Pennsylvania and the Greater Pittsburgh Supported Employment Association (GPSEA). 

Ms. Fair (Gooden Ledbetter) has contributed to several articles and publications.  She has assisted in the development of a values clarification manual entitled Values, Rights and Responsibility: A Delicate Balance, as well as the manual Together is Better: Creating a Community Where Each Belongs. She has co-authored four articles:
"Living, Working and Playing: A Holistic Approach"
"Social Capital: A View from the Field" Journal of Vocational Rehabilitation (2009)
"Independence and Life Care Planning" Journal of Pediatric Rehabilitation (1998)
"Self-Efficacy and Interdependence as Predictors of Life Satisfaction for People with Disabilities: Implications for Independent Living Program" Journal of Vocational Rehabilitation (2007) 
More recently, Ms. Fair (Gooden Ledbetter) was a contributing author to a chapter, "Community/Peer Support and Services" in Promoting Successful Integration published by the US Army Medical Department Center and School Health Readiness Center of Excellence, Fort Sam Houston, Texas.

Ms. Fair (Gooden Ledbetter) currently serves as the Field Instructor for the School of Social Work and serves on the Advisory Board of the School of Rehabilitation Sciences at the University of Pittsburgh. She provides supervision and educational supports to many students from many local universities and colleges. From 2012 – 2014, she served on the Women's Leadership Advisory Council (WLAC) at Robert Morris University. Currently serves on the Board of Directors of the Southwestern Pennsylvania Partnership on Aging (SWPPA).

Ms. Fair (Gooden Ledbetter) is a graduate of Carlow College with a Bachelors of Arts Degree in Psychology and Special Education and Robert Morris University with a Masters Degree in Non-Profit Management.  She is a strong advocate of community inclusion and supports the agency's mission of Working Toward A Community Where Each Belongs.