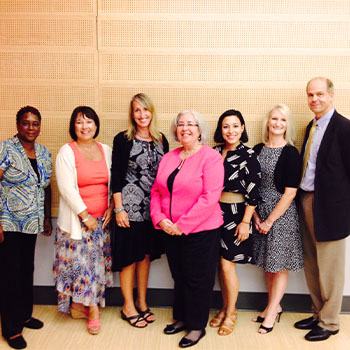 Respite Awareness Week brought together family caregivers, stakeholders, providers, and community members.
The Alliance for Community Respite Care (ACRC) of CLASS continues to promote awareness of caregiver relief and hosted a number of events to celebrate Respite Awareness Week 2015 in Pennsylvania. The ACRC is a volunteer group committed to supporting access to respite resources for family caregivers of individuals of all ages and disabilities.
To kick-off Respite Awareness Week, the ACRC was featured during a live interview on the KDKA Radio's Saturday Light Brigade. Later that same week, the ACRC of CLASS, with support from the Institute on Disabilities at Temple University, hosted a lunch and learn with Jill Kagan, Chair of the National Respite Coalition and Program Director for Access to Respite Care and Help (ARCH), in Washington DC. Kagan met with individuals who are creating volunteer respite initiatives in their faith communities and other community organizations, and invited others to focus on sustaining respite efforts in their communities. During the event, she shared her expertise on sustainability specific to caregiving, women and disability, and respite issues.
A highlight of Respite Awareness Week was the 7th Annual ACRC Respite Community Forum and Resource Fair, which brought together family caregivers, stakeholders, providers and community members, to participate and discuss issues related to caregiving. The standing-room-only event featured speakers and panelists who recognized the efforts of family caregivers and the need for educating stakeholders in western Pennsylvania about the impact of respite.  
Serving as the keynote speaker, Jill Kagan provided a federal perspective on respite care that was both informative and inspirational. The forum also featured a panel of experts including:  David Drezner from the state Aging Disability and Resource Centers, Danielle Pantalone from Cullari Communications Global, Russell Goralczyk with the Allegheny County Area Agency on Aging, and Robert Niederberger, an advocate and stakeholder. The panelists were able to offer innovations in respite services and talk about government updates. 
Speaker of the House, Mike Turzai, presented a proclamation declaring Respite Awareness Week and acknowledging support for family caregivers and the PA Lifespan Respite Coalition.  State Representative Edward Gainey recognized the Annual Respite Community Forum and the effort to raise respite awareness. 
ACRC of CLASS provides resources to caregivers by connecting them to respite services through the CLASS website and the ARCH respite locator, along with other referral sources. The ACRC of CLASS meets monthly to plan events and other activities to support access to respite care. This year, the ACRC of CLASS has welcomed new participants to the group, including local faith and community organizations that offer volunteer respite resources for families caring for children with special health care needs.
As the ACRC of CLASS grows, so do efforts to ensure that family caregivers have improved access to relief.  The ACRC also provides funding in the form of vouchers to families who do not have access to funding. During the past year, several families were provided with stipends, allowing them to purchase respite relief that would have otherwise been out of their reach.