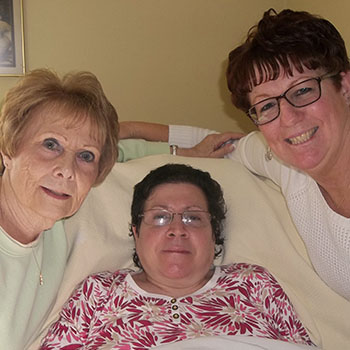 Ann received the support she needed to remain in her own home as an active member of her community. 
Ann is an avid movie goer and loves going out to dinner.  She enjoys spending time with her family and chatting with people in the community.  She credits her participation in the Attendant Care and  Multiple Sclerosis Exercise and Support (MSES) programs with helping her be more active in her community.  Some people, like Ann, receive services from more than one program at CLASS in order to meet their needs.  Ann values both the wellness exercises from Joyce and the MSES Program, as well as the quality care provided by Vicky through the Attendant Care Program.
Ann has received services from the MSES Program for the past six years.  The MSES Program is an in-home health and wellness program, which provides resources and information, as well as range of motion exercises to people diagnosed with MS.   Joyce Zendarski, the MSES Program Supervisor, works with Ann once a week to perform different stretches and range of motion exercises to help maintain her strength.  
In addition, Joyce has been a valuable resource for Ann and her family, answering questions about local resources and possible medications for MS.  Of the MSES program Ann acknowledged, "I like the program a lot and would recommend it for anyone with MS.  My muscles get very stiff and the exercises help me to relax, making me feel better."  Through her tenure in the program, Ann and her family have learned a lot from Joyce about MS and possible treatments that could be beneficial for Ann's care.  
Ann is very close to her family, and choosing an agency to serve as Ann's caregiver was a challenging decision for the family. Confident in the care CLASS could provide, Ann and her family chose to receive services from the Attendant Care Program.  Ann's attendant, Victoria Smith, or Vicky, has worked with Ann for the last thirteen years.  Ann's mom and sister speak very highly of Vicky and know that Ann will receive excellent care and support through the Attendant Care Program.  
In addition to caring for Ann, Vicky goes above and beyond her daily assigned tasks and helps Ann plan two trips a week into the community.  With assistance from Vicky, Ann loves to go to see comedies at the movies, buy gifts for her family at the Mall at Robinson, and go out to eat, especially at her favorite restaurants: Bravo and Red Lobster.  Since Joyce works closely with Ann and Vicky, she sees the vital role that Vicky plays in Ann's life. "I am proud to say that I work at the same agency as Vicky.  I have always been impressed about the quality of care that Vicky provides Ann."  
For Ann, the blend of individualized services offered through CLASS has helped her receive the support she needs to remain in her own home as an active member of her community. CLASS prides itself on the ability to create the unique blend of supports based on the individuals needs of each person receiving services.