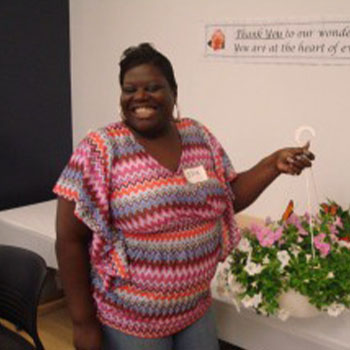 Leslie speaks often of how much she loves and values her work at CLASS because it gives her the opportunity to help others.
This story is a first-hand account from one of the people CLASS supports.  

I first met Leslie a year and a half ago during one of the most difficult periods of my life. My doctor allowed me to come directly home from a very difficult hospital stay on the promise that I would get a hefty schedule of rehabilitation therapies and personal care at home. So of course, having worked at CLASS, I called their Attendant Care staff to schedule an attendant every morning and evening. I knew that it might be difficult to get both shifts covered seven days a week, but as I suspected, CLASS was able to accommodate me. Shortly thereafter Leslie knocked on my door one morning and introduced herself, which started one of the best and most helpful relationships I have ever enjoyed.
Being stubbornly independent all my life, I was already losing patience with my grown children and an endless stream of nurses, therapists, and equipment providers coming into my house, seeming to take over my life, and telling me what to do. Leslie was a breath of fresh air. She came in quietly, and asked me to tell her about my needs and how she could best help me. And she listened! When I wanted help, she helped, and when I wanted to try to do something on my own, she let me while she unobtrusively kept a watchful eye. It took a lot of sensitivity, patience, and persistence on her part to get me to allow her to help me, but she succeeded.
Leslie understood that care giving is more than a list of physical tasks. In 18 months, she demonstrated such reliability and was always on time. When my alarm clock broke I didn't get another one because I knew Leslie would be at my door every morning to wake me up. She understands the importance of social capital in her own life and in the lives of her consumers, too. When I started to feel well enough to get together with friends or colleagues, she made sure my house looked nice. She would fix my hair, remind me to put on some makeup, and said she wanted me to look my best. Leslie listened to all my fears and concerns and responded with lots of support, encouragement, and reassurance.
Over time we have come to enjoy visiting with each other while she helps me get started with my day. At Christmas time she stopped by on her own time to meet my daughter and grandchildren from out of town. My daughter thanked her enthusiastically for taking such good care of me. Recently one of my doctors told me, with considerable amazement, that he had only seen two patients in his entire career recover as well as I have. I told him I appreciated the good health care I received, but thought that the skillful and emotional support and care giving provided by Leslie contributed equally to my recovery as all the medical intervention.
Leslie speaks often of how much she loves and values her work at CLASS because it gives her the opportunity to help others. It is a pleasure to have her in my life. This morning one of my coworkers remarked that the meaning of CLASS is "to cultivate respect for everyone including oneself, to be polite to others and to reflect a genuine interest in them." I can't think of a better way to describe Leslie and everyone else from the CLASS Attendant Care Program.