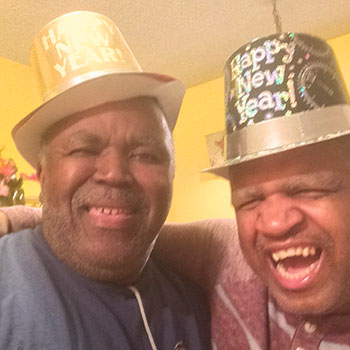 CLASS's Residential Services is proud to offer a more individualized approach to care which makes trips, like Michael's, possible.
Family and holidays have always been important to Michael, who is supported through CLASS's Residential Services Program.  His excitement is contagious for all who meet him at any time throughout the year, but especially during the holiday season.  This year was even more exciting for Mike; he was going to spend the holidays with his family in Indiana, something he had wanted to do for years.  
Weeks before the trip, Michael told everyone that he was going to his brother's home to celebrate the holidays.  For Michael, travel isn't always easy.  Over the past 17 years that Michael has been supported by CLASS, most of his trips were local; he had never traveled on a plane and gets anxious in confined spaces.  Diana Tatters, an Individual Supports Plan Specialist at CLASS, worked with Michael and his brother to develop a detailed travel plan, so he was comfortable with all aspects of his trip.  Staff had repetitive discussions with Michael during the month before the trip, which included details about the airport, describing what the plane was like on the inside, and different safety measures, such as staying in your seat during the flight.  In order for Michael to feel at home once he arrived, staff also reviewed things with his family that Michael liked, as well as different things that the family should be aware of that could cause anxiety for Michael.  It was decided that Diana would accompany Michael on the flights to help him navigate the airport and try to ease any anxiety he may have during the trip.
When the day arrived to make the trip to Indiana, Michael anxiously paced from the minute he woke up until leaving for the airport.  He gathered up his suitcases and presents for his family, and headed to the airport with Diana.  Once on the plane, Michael enjoyed looking out the window at the land below.  While layovers can be stressful for travelers, Michael took the opportunity to walk off some energy before boarding his connecting flight to meet his family.  Upon arriving in Indiana, Diana exchanged information with Michael's family and then headed back to Pittsburgh, allowing Michael and his family to reconnect with each other.  During the visit, CLASS staff remained in contact with Michael and his family to offer information and tips to supporting Michael to ensure a successful visit.  
After celebrating Christmas and ringing in the New Year with his family, Diana returned to Indiana to support Michael on his trip home.  He talked the whole way  home about his Indiana adventure and all the things he did with his brother and his family.  The communication and support between Michael's staff and his family ensured that Michael's dream to visit his brother out of state became a reality and a memory that he and his family will treasure.
CLASS's Residential Services is proud to offer a more individualized approach to care which makes trips, like Michael's, possible.  Staff members work closely with participants and their families to ensure they receive the support and resources  necessary to travel in their own communities, as well as other opportunities.  Because of this support, individuals can actively participate in the communities of their choice.